Alecso Initiative for E-Learning in Corona Crisis Period
Initiative
ALECSO's initiative
Amid the current global emergency situation resulting from the COVID-19 outbreak, which caused school closures in at least 30 countries, impacting no less than 290.5 million children and youth around the world (according to the March 4, 2020 UNESCO's report).
As the Arab World has not been immune to the adverse effects of the COVID-19 global crisis, with education being totally or partially disrupted in a number of countries, such as Saudi Arabia, UAE, Lebanon, Kuwait, and Bahrain,
Drawing on ALECSO's pioneering experience in the Arab World in terms of e-learning, especially through the Arab OER Hub and the Massive Open Online Courses (MOOCs), and keen on developing Arab educational systems and ensuring the continuity of learning in countries going through emergency crises, an e-learning initiative in response to COVID-19 educational disruption will be launched based on the latest electronic educational content software, and in cooperation with Arab partner educational platforms. The initiative involves placing all curricula and teaching materials on these platforms, and raising awareness of their importance and efficiency through social media networks (Twitter, Facebook). There will also be an integrated scientific training program for teachers to familiarize them with modern learning/e-learning methods, and enable them to produce and disseminate courses and acquire synchronous online teaching skills.
The initiative is essentially designed to :
Contribute to developing alternative technological solutions, by taking best advantage of ICT to respond to educational disruption in the Arab countries and ensure the continuity of learning;
Enable Arab students and teachers to freely access Arabic educational contents available through ALECSO's platforms and specialized Arab websites and portals;
Promote open and electronic learning to cope with educational disruption in times of crisis, through the use of the Arab OER Hub and other educational platforms;
Organize training courses, via ALECSO's e-training platform, for Arab teachers, and provide them with the needed technical guidance and coaching so that they can make best use of platforms and tools for producing and sharing educational contents;
Promote cooperation and partnership with the competent parties, organizations, institutions, experts and partners active in the field of e-learning, and share expertise, experience, best practices and technological solutions to ensure the continuity of learning during the period of educational disruption.
ARAB OER HUB
ARAB OER HUB
The Arab OER Hub is a unified platform for Arabic Open Educational Resources available online on the global OER platform www.oercommons.org. The Hub provides unified access to all OER contents developed in the Arab countries. It helps to promote, use, develop, share, and adapt open educational resources. It also offers vast opportunities for cooperation, sharing and exchange between Arab teachers and authors of educational contents with the aim of producing and sharing these resources and facilitating access to them by teachers and learners across the world.
The Arab OER Hub also provides users with several tools that enable them to add, host, and create digital contents and grant appropriate open licenses, and thus to make these contents available and accessible online as open educational resources. These tools include in particular :
Sharing existing educational resources, making them available via special online links and addresses (national platforms, specialized websites, …etc.), typesetting and indexing them by adding relevant standards and metadata, and allocating the appropriate open license.
OER Author : the Hub includes a tool for creating and managing digital content, which enables OER authors to edit digital educational content, present it in the form of learning units, and then add the needed metadata to facilitate automatic typesetting and ensure more effective search and access.
The OER Author tool makes it easy to combine digital contents in various formats (text, images, audio/video files,…etc.) and to save them as open, licensed educational resources. These resources are then made available and shared by teachers, learners and all those interested from all over the world. Resources can be printed and downloaded as PDF files. All multimedia files contained in these resources can also be downloaded. The OER Author tool has other characteristics, including the following :

Importing external resources from Google Docs : a new resource can be created by downloading a Google Doc and using it via the OER Author tool;
Adjustment: the open content can be adjusted and adapted to meet the basic characteristics of the Commons, the State's requirements, and the special needs of learners and classrooms;
Setting up and integrating open educational resources : it is possible to set up, integrate, adjust, adapt, allocate, and reorganize/reformulate existing resources in order to create new resources.
The Arab OER Hub at a glance
Link to the Arab OER Hub
ARAB OER HUB
COORDINATORS
To feed the Hub with open educational resources, national coordinators have been appointed across Member States. This is, in fact, to ensure that quality and credibility standards are observed in the digital contents provided at the level of each country. The structure of the Arab OER Hub is based on groups that contain the contents created/added and typeset by source. Accordingly, twenty-two groups were created, representing ALECSO's Member States. In each Member State, the national coordinator is in charge of managing his country's group through the Hub, supervising and coordinating the work of OER authors, verifying their qualifications, and checking the quality of the content created and added.
Hereafter is a list of national coordinators :
Alecso's Rwaq
ALECSO'S RWAQ
"Rwaq" is an educational platform for MOOCs (Massive Open Online Courses) provided by ALECSO, in cooperation and partnership with "Rewaq Al-Maarifa (Rwaq)". It offers MOOCs for learners and for all those interested in these courses in the Arab region and across the world.
MOOCs are among the most recent educational methods, and are part of a new generation of e-learning systems, increasingly in use all around the world. Through its central MOOC platform, ALECSO seeks to contribute to promoting open education and lifelong learning, and to support and localize e-learning across the Arab World.
ALECSO also works to :
Develop MOOCs in several disciplines of wide interest, in response to large and urgent demands for this type of courses;
Host courses developed by teachers from Arab universities and education/ training institutions in the ALECSO Rwaq platform, and use them in sessions organized to that end;
Organize sessions to foster awareness about the use of MOOCs at all educational levels and take best advantage of this type of learning;
Hold training sessions for Arab teachers and trainers in the production and use of MOOCs.
Providing an Arab central platform for e-learning and developing a number of MOOC courses that attract the interest of thousands of Arab young people, will certainly contribute to the training and upgrading of Arab youth from all categories, and help them to face the problem of education or unemployment in times of crisis. This type of online learning can also support formal education and lifelong learning in the Arab World. This will help give rise to a new generation of learners and teachers capable of penetrating the world of modern technologies and remote working. These areas actually need cooperation, expertise and joint efforts to ensure quality outputs and thus achieve the set goals.
Link to Rwaq platform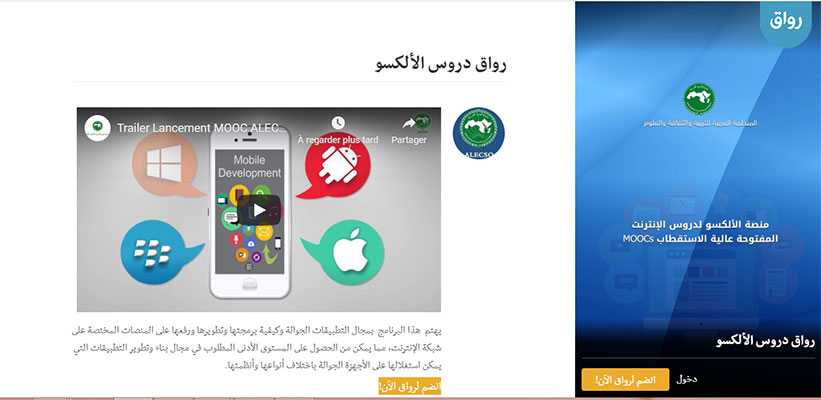 As part of its initiative to promote open education and e-learning during the Corona crisis, ALECSO offers training courses for teachers and students to help them use technology platforms and tools in their teaching and learning practices.
Registration for
training courses
Certificates awarded by ALECSO at the end of the course
ALECSO is organizing a remote training course for Arab teachers on the Virtual Classroom System
ClassIn
on
Monday 5 October 2020 at 09:00 GMT (12:00 Mecca time)
. ClassIn is an online classroom for synchronous learning (real-time audio and video communication) with a collaborative and interactive whiteboard and it provides the ability to create multimedia activities to give efficiency, motivation and flexibility in learning. Actually more than 300 million users are using ClaseIn in 150 countries.
The registration period for this course has expired
Partners
Rwaq Company

Classera

ISKME

Beijing Higher Institute

Commonwealth of Learning

ClassIn
---